Tempco Cast-In Heater Replaces Tubular Heating Element for Rice Cake Producer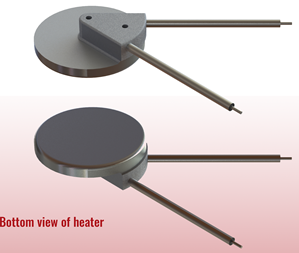 A manufacturer of rice cakes has historically been using tubular heaters in combination with a high-temperature, food-grade thermal paste to heat their dies that form rice cakes. The wattage required for this application is very high in order to accommodate the high throughput of this manufacturing process. The high wattage can be detrimental to the heating element if the heat is not effectively transferred away from the element and into the die. This ineffective heat transfer has caused a high percentage of failures in the field which causes undesired downtime and added labor costs. The rice cake manufacturer searched for and consulted with many different heater manufacturers to find a better solution without success. However, Tempco was able to come up with a more effective design that will last longer in the field.
Tempco developed a cast-in heater with a tubular heating element to replace the plain tubular heating element. The cast-in heater more effectively transfers heat to the rice cake die which drastically increases the life span of the heater. Since the cast-in heater has a much greater service life, downtime and overall labor costs are reduced for our customer.
Due to the high number of cast-in heaters that need to be produced for this food service application, Tempco opted to develop a tilt-pour permanent mold to produce this part. A combination of 3D solid modeling, Finite Element Analysis (FEA) and casting knowledge was used to develop the permanent mold. Tempco has a tool, die and mold department fully capable of designing, developing and manufacturing all permanent molds in-house. This style of cast-in mold reduces labor and helps lower lead time for high volume orders.
(content from the tempco)