Table-top Control Panels for Industrial PRocesses
Often Tempco will receive requests for control panels with custom requirements. Recently we completed two variations of table-top control panels that allow for portability and convenience. Both variations feature power cords and outlets as well as receptacles for sensor inputs. These features eliminate the need for qualified installation personnel to:
Create new space/plan for where the installation would be most effective
Run new conduit • Mount control panels to suitable fixtures (usually a concrete wall)
Install new circuit protection rated for the control panel installation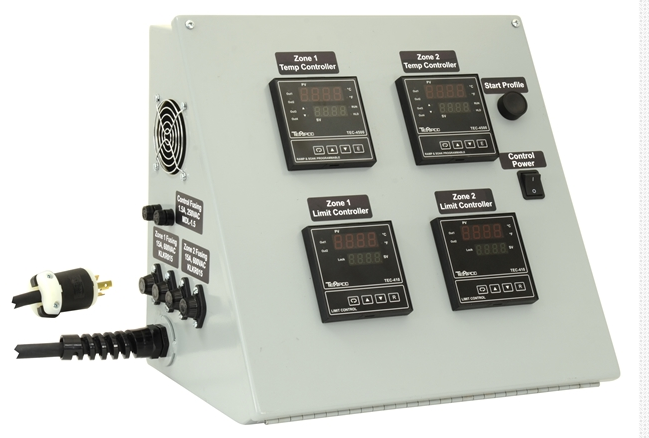 When Tempco was approached by an existing customer in the textile industry who needed a table-top solution for a batch mixing process. The unit needed to be portable and "plug-and-play" because it would be frequently moved around from batch to batch. Tempco furbished a 24A rated, ramp-and-soak control panel with two zones. The controller for Zone 1 initialized the controller for Zone 2 after a preset period of time. Then it allowed both zones to operate for another preset period of time. Each zone utilized Harding multi-pin connectors and a 20-ft. power cord with plug for easy set-up. The challenge for this unit was to utilize an enclosure that fit the dimensions available from the customer. A "consolet" enclosure was used because it was well-suited for benchtop viewing and operation. A custom sub-panel was fabricated to mount the internal components since space was hard to come by.
---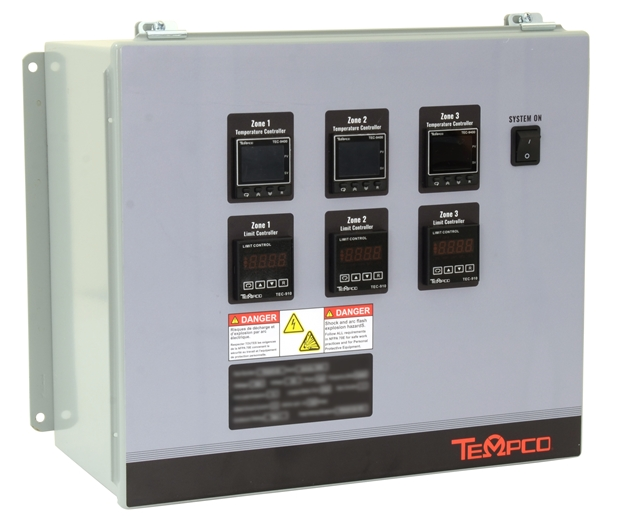 A customer who specializes in innovative solutions for industry found Tempco's website contacted us regarding a similar control panel. They needed a 3-zone control panel with high limit over-temperature devices. As they were unsure of the amount of current needed for each zone, the entire control panel was made with a total capacity of 15 amps. Additional requirements of the control panel were:
"Plug-and-Play" power and communication – Tempco provided a 6-ft. power cord as well as twist-lock receptacles and pin/socket connectors.
RS-485 Communication for remote control over the customer's network - Process Temperature Retransmission
Alarm outputs to indicate when the process value (temperature) was within a pre-determined range.
The main challenge of this project was the customer requirement that all inputs and outputs be located in the rear of the enclosure while all controls needed to be mounted on the front. This created a wiring challenge that and was solved by fabricating a custom sub-panel with stand-off's and large openings that allowed wires to be transferred from the door to the back wall.
(content from the tempco)