International industrial manufacturing exhibition, Jakarta, Indonesia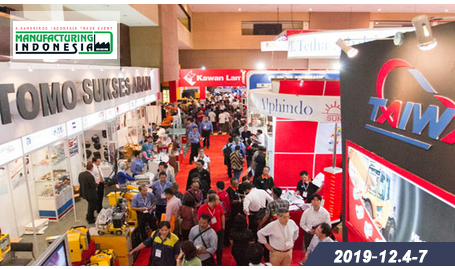 Indonesia is a large-scale, professional and influential machine tool & metal processing & machinery manufacturing exhibition
MANUFACTURING INDONESIA is held by INDONESIA ministry of industry, INDONESIA precision tools industry association, INDONESIA machine tool industry association, INDONESIA metal machinery association and INDONESIA auto parts association. The exhibition is held once a year. It is also a very important platform for enterprises to open the Indonesian market.
Professional strong: Indonesia industrial manufacturing exhibition for southeast Asia has a long history, exhibitors and visitors international manufacturing exhibition, with a history of more than 30 years.
It is a large local manufacturing exhibition and a professional manufacturing exhibition in Indonesia. It is honored as one of the top 20 manufacturing exhibitions in the world.
The exhibition gathered machinery enterprises from southeast Asian countries, Europe and other countries, including mitsubishi, LG, omron and other industry giants.
The Exhibition scale is large: three theme exhibitions will be held at the same time: Machine Tool Indonesia, Tools& Hardware Indonesia, International Automation Technology & MaterialsHandling Exhibition.
Build Indonesia and southeast Asia machine tools, hardware tools, manufacturing industry large-scale professional exhibition.
Strong sponsor: PT Pamerindo Buana Abadi is a member of Allworld exhibition group, which is headquartered in the UK and has held more than 100 professional trade shows around the world every year for more than 100 years.
Support units are: Indonesia ministry of industry, Indonesia machine tool industry association, Indonesia metal machinery association, Indonesia auto parts association, Indonesia precision tools industry association.